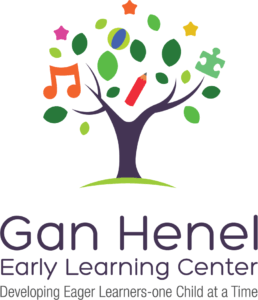 Gan Henel ELC CHILD & CAREGIVER CLASSES
Fall 2017
CLASSES FILL QUICKLY SO REGISTER EARLY!
All of these classes require caregiver participation
POLICIES
Drop-in Classes: Drop-ins are only available space permitting. Please inquire about drop-in dates and fees by calling Tsipy Weiss or emailing TsipyWeiss@gmail.com
Cancellations: While Gan Henel Early Learning Center will make every effort to offer all the classes posted on our website, we do reserve the right to cancel any classes due to low enrollment or staffing changes.
Refund Policy: We offer a full refund prior to the start of the session. If you are not satisfied after your first class, Gan Henel will offer a 50% refund.
Make-up Policy: If there is another parent/caregiver class that your child's age qualifies him/her for, Gan Henel Early Leaning Center will offer 1 make-up class for every 3 classes missed during a semester, subject to availability.
Please leave children with a contagious ailment at home so that we can maintain a healthy environment.
It is the parent's or caregiver's responsibility to be in full control of their child's behavior while attending classes at Gan Henel Early Learning Center.
Gan Henel Early Learning Center shall not be liable for any injury or personal property.